Kidscreen »Archive» Children's concerns about health and well-being are growing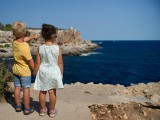 Well-being, personal care and mental health will be a top priority for children this year, according to new research from The Insights Family. In his new report The next generation of families, the research firm found that American children between the ages of three and 12 are 51% more concerned about their health and well-being than they were last year.
Almost 20% of six-year-olds say mental health is one of their top three concerns – outshining both bullying and violent crime. To deal with it, 39% of American families engage in some form of meditation or mindfulness activity at least once a day.
After more than a year of confinement, families are increasingly focusing on health and physical activity, and one in three children ((32%) is concerned about what they eat and drink. This new take awareness will likely remain in play for a while, so brands that support general well-being should resonate with families this year.
Health concerns also have an impact on the popularity of family activities. Cooking / baking is currently the fifth favorite family activity for children aged 10 to 12 in the United States, with sports / physical activity following closely behind. (The top four activities are watching TV, watching YouTube, playing board games, and playing video games.) And Canadian children ranked cooking and baking third (behind only watching TV and listening to music), with sport / being active in sixth grade.
Families are starting to actively seek out brands that support their health and well-being. In the United States, the percentage of children owning Apple Watches has increased from 1.6% in 2020 to 5.1% in 2021. Parents who exercise with their children and want them to follow their own health are responsible for this increase, according to The Insights Family.
To compile data for The next generation of families, The Insights Family interviewed 21,300 children aged 3 to 18 and 10,400 parents with children aged 1 to 16. Research was conducted online throughout the year in the United States and Canada, and the report is based on information gathered by May 2021.
photo by Torsten Dederichs on Unsplash