Valuable chess table recovered as DINT executes unrelated search warrant | New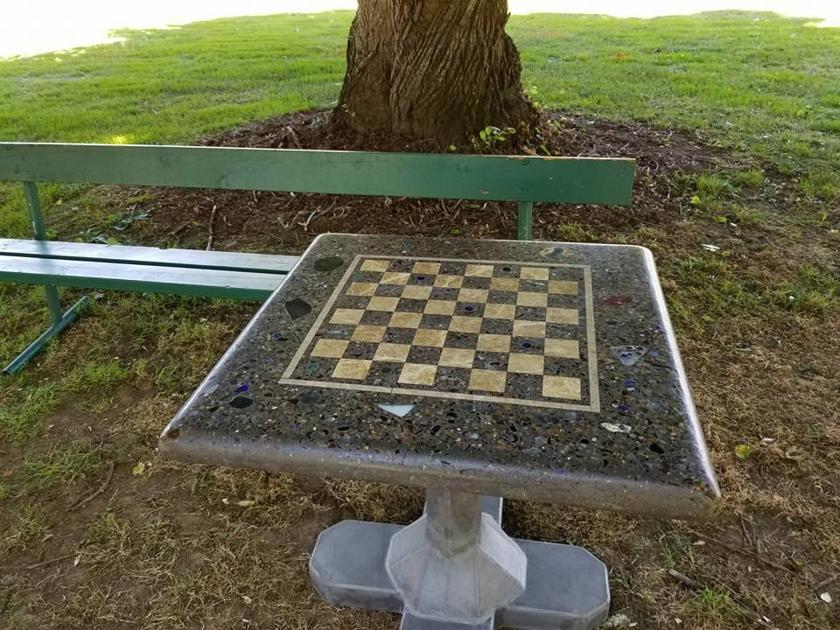 Lem James got into the habit of loaning out his company's concrete table games for the annual Umpqua Valley arts festival.
When the time came for him to grab the centerpiece of his business – a 450-pound chessboard – on Monday morning, something was wrong.
More precisely, the chessboard was missing.
"I came over on Monday morning and they texted me asking if I had done anything with the table," said James, owner of Bravado Outdoor Products on Northeast Diamond Lake Boulevard.
It turned out that the prized piece was taken on the grounds of the Umpqua Valley Arts Association in Fir Grove Park between Sunday and early Monday morning.
However, detectives from the Douglas Interagency Narcotics Team found the chessboard in a garage as they executed an unrelated search warrant in the Lookingglass area on Tuesday.
"It was quite astonishing that he was found two days later," said James. "It was a good time for us."
The chessboard top is black concrete with marble inlays for the chessboard squares and finished with recycled glass.
"It's quite a unique piece," said James, whose company also loaned other concrete sets to the Arts Association for their event, which was canceled on Sunday due to record heat. "This is the one we pay a lot of attention to to make it our centerpiece."
The table was transported from the Lookingglass area home and entered into evidence in an ongoing investigation, but the Douglas County District Attorney's Office returned the table to Bravado.
Roseburg Police are continuing to investigate the theft, and there was no further information regarding Tuesday's DINT activity.
Bravado has lent his chess board, along with his concrete table tennis and foosball games, to the Arts Association for its annual festival for years, and James has said he will continue to do so.
"As far as I know, this is the first time that one of our games has been stolen," said James. "I guess we've found the right mix here for someone to play with."